Opt for an Industrial Temporary Building
Industry: Why Choose a LAURALU Temporary Building?
---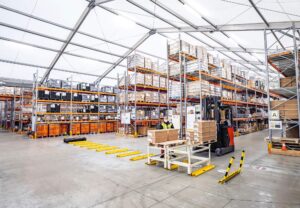 We understand your industrial company must control its costs, in order to be able to constantly adapt its level of activity. A LAURALU temporary building gives you the flexibility and responsiveness you need. We support you to increase your storage, production or maintenance area .
Our construction process is 4 times faster and 2 times cheaper than traditional construction . In a very short time, we can install a turnkey warehouse, workshop or logistics platform on your site . Our high quality metal and textile temporary buildings do not require any foundations. They comply with climatic (NV65 and Eurocodes) and ERP (CTS7) standards.
We have a host of industrial temporary buildings to meet your need. We quickly install temporary buildings and canopies on your site, including but not limited to: storage warehouses, logistics platforms, production or maintenance workshops, etc.
Our temporary buildings for industry
Lauralu are not resellers; all of our high-quality temporary buildings and canopies are designed and manufactured in our own factory. This means that we are able to deliver a consistently high-quality product at competitive manufacturer's prices. We are the only European temporary building company to have complete control over the supply chain.
We have a network of highly trained and experienced installers across the UK and Europe. They are capable of working within tight deadlines, whilst satisfying all relevant health and safety regulations.
We are known for fast turn-key temporary building and canopy solutions that are installed on deadline, in budget and to our customers exact specification. That is why we are the UK's fastest growing temporary building supplier.
3 cost effective options for you